Distribution
UK Freight Distribution
Transport
The core function of Verran Freight's distribution operation is collection and delivery. The Group have a fleet of 35 vehicles at their disposal, ranging from 1.5 ton to 44 ton articulated.
We operate 365 days a year throughout the UK and Europe, transporting a wide range of products. We have vast experience in handling every type of consignment and load combination, and are able to offer single or multi-drop options to and from any location.
Efficient and knowledgeable staff manage the company, using the latest computer and communications systems to ensure accurate tracking of vehicles for time-sensitive deliveries.
In addition, we operate a specialist division delivering to major outlets requiring "just in time" deliveries based on supply chain requirements.
Bulk Transport
Bulk transport encompasses the distribution of a whole range of goods and manufactured products. Verran Freight Group has a diverse range of vehicles, which are capable of moving bulk consignments of any size and form. This is made cost effective by careful load combination and planning.
Partners
To widen our distribution network, we operate daily trunk connections with partner companies in Ireland, Scotland, the north of England and the South West. These services offer premium service levels due to the local strength and reliability of the selected partner, and allow us to offer competitive rates for full and part loads.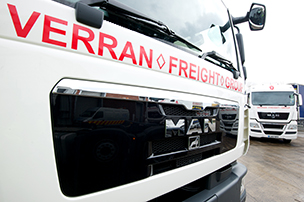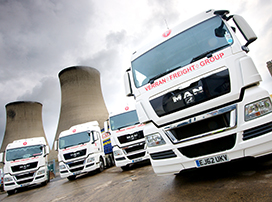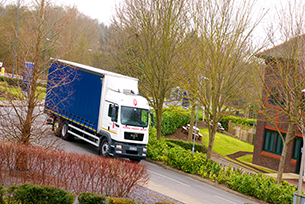 International Distribution
European Freight Distribution
Verran Freight Group operate through-out most of Europe, we can distribute and collect groupage and full loads as required.
Journey times and costs can be optimised by using partner companies located in areas of collections and deliveries, transporting goods into and out of the United Kingdom efficiently.
Worldwide Freight Distribution
The International division of the Group offers a comprehensive service for exports to and imports from most world locations by road, sea and air. This includes dealing with Customs formalities, duties and documentation.
We are able to offer logistic, warehousing and distribution services in the USA, serving most destinations from our base on the North American East Coast. In Europe we operate joint venture warehousing and distribution services in Germany and France.
Verran Freight Group operates a full consolidation service for exporters who wish to combine goods from various sources and send as a full container load (FCL) when all products have been received. We also offer groupage (LCL) services to and from the USA.
Two way container services to Australasia, China, South America and South Asia are available.